LASER ABLATION
Avoid surgery with the safest and most effective treatment for benign thyroid nodules
Percutaneous Laser Ablation (PLA)
Dr. Andrade is the first physician in the USA to perform Laser Ablation.
Not too long ago, surgery was the only effective treatment for thyroid conditions, but thanks to medical developments and advanced technology, many thyroid issues can now be treated with non-invasive outpatient procedures.
Dr. Agustin A. Andrade, MD, ECNU is the pioneer in Laser Ablation (PLA) and the first doctor to perform this innovative treatment in the country, so you can expect the highest standards of care when you choose the Thyroid, Parathyroid, and Pituitary Center for Miami.
Laser Ablation is a non-surgical, FDA approved outpatient procedure that focuses on benign nodules of more than or equal to 2 centimeters in size and is performed under local anesthetic. Before this treatment, it's required that patients have 2 Fine Needle Aspirations of the Thyroid Nodule (FNA) done, in order to make sure the nodules are benign.
Laser Ablation can help you avoid conventional thyroid surgery and abnormal thyroid/parathyroid functions that may occur as a result of it. It's a non-invasive procedure that allows you to go home and resume your daily activities after just 20 to 40 minutes of post-procedure observation.
What You Need to Know about Laser Ablation
Laser Ablation is an outpatient treatment to reduce the size of benign thyroid nodules that are symptomatic and may cause difficulty swallowing, neck discomfort, or foreign body sensation, as well as for cosmetic reasons.
Before selecting your Physician for treatment, make sure you know how many procedures the Doctor has performed and years of experience in Laser Ablation (PLA).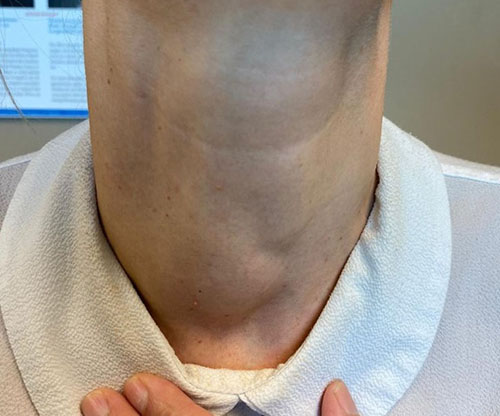 18 Months After Laser (PLA) Treatment
To find out more about non-surgical Laser Ablation, call our practice and schedule a consultation.